Welcome!
The Fort Vasquez Chapter of the National Society Daughters of the American Revolution (NSDAR or DAR), was organized on September 28, 1928. Our chapter invites those women whose ancestors were involved with the American Revolutionary War to join the NSDAR organization in promoting patriotism and share in our community service activities.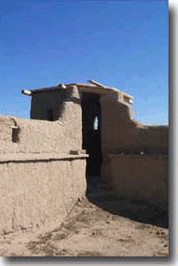 "We believe that the rich and beautiful land in which we live has been a major factor in shaping the American nation and the lives of its people.
We believe that Americans have created a way of life unsurpassed in excellence by any other nation of modern times. The sturdy foundation on which American life is anchored is our Constitution. Conceived in the wisdom of the Founding Fathers of the Republic and strengthened by succeeding generations, our government has guided the nation to its astounding growth while meeting the changing needs of the times.
We believe that the history of America forms as epic incomparable for its richness and variety.
We believe that the key to America's future lies in the study of its past. Sharpen your knowledge of our priceless American heritage and better equip yourself to carry out the duties as citizens."
-Richard C. Brown, Arlan C. Helgeson, and George H. Lobdell, Jr.
"Learning is not attained by chance, it must be sought for with ardor and attended to with diligence."
-Abigail Adams
We the Daughters of the American Revolution celebrate our past, continue to preserve its history, encourage patriotism, and promote history education. Be thankful for our liberties and freedoms.
-Colleen Heitman, past Fort Vasquez chapter regent
The National Society Daughters of the American Revolution (NSDAR or DAR) is a non-profit, non-political, volunteer women's service organization comprising 3,000 chapters and over 185,000 members.
The Fort Vasquez Chapter, NSDAR, enjoys an active calendar of patriotic, service, and social events. Our membership reflects women of all ages and stages of life. Whether you would like to participate, assist, or organize an activity, there is something for everyone!
Please enjoy your visit to these pages as you explore and learn more about who we are, what we do, how to join us, our patriot ancestors, and resources to celebrate patriotism, promote historical preservation, champion education, and research your own family history. Additional information about us can be found on the website of the Colorado State Society DAR and the National Society DAR.
Please Contact Us to connect with one of our members and learn more about joining our chapter.